Tony Murrell is one of New Zealand's
top-rated landscape designers, working
with a team of experts, building
modern spaces featuring classic design.
WHY
CHOOSE ME?
With more than 20 years' experience, I have designed gardens all over the world.
After training in New Zealand, I was based in London for eight years designing and maintaining exclusive gardens.
I DESIGN OUTDOOR LIVING SPACES


suited to our varied New Zealand climate
We look forward to the seasons that allow us more time to enjoy the great outdoors and - quite frankly - some years the warmer and drier days cannot come fast enough.
I have spent the best part of my career to date designing outdoor spaces that are sheltered, warm and a favourite place to relax.
Get to know
more about me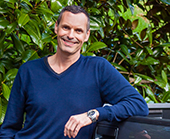 Tony Murrell


Garden Designer

I'm passionate about gardens and garden design which is why I have been in the horticultural industry for most of my working career, almost 30 years. I throughly enjoy meeting and working with people designing and building beautiful outdoor environments. While I live in central Auckland, I travel the world for my inspiration and to research and keep up to speed with international garden design trends and developments for my clients. I have an affinity with London, having trained there as a chef. You can always tune into Kiwi Living (TV ONE 7:30pm Friday nights) or The Home and Garden Show (Radio LIVE 6am-12pm Saturday) to see and hear me in my element!
"After renovating our home in 2009 the final stage was the completion of a landscape design for the property. We met with several landscape designers to discuss it but Tony above all others demonstrated a clear understanding of our requirements and the brief. To make the process easy we were provided with detailed concept drawings, an inventory of plants, together with exact costings and an accurate schedule of work. The job was carried out in a professional and timely manner. The final result being one that well exceeded our expectations and has provided a stunning garden environment which has enhanced the architecture of the home."
"During our initial consultation Tony explained his vision for our garden. From that moment we knew we were in good hands. From the organising of workmen to choosing the plants, and tiles etc. Tony did an amazing job. He made us feel very comfortable with choices of colours and so on, because of his experience and creativity, he just seems to know what works. The outcome is really gorgeous. We couldn't be happier and everyone who has visited passes comment on how relaxing and beautiful the garden is. We have no hesitation in recommending Tony to anyone."