recent projects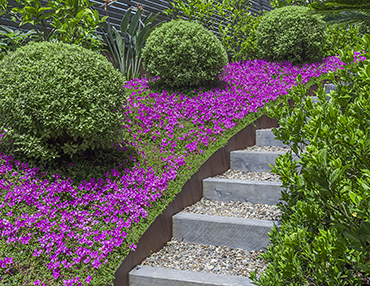 Designing this garden for my client whose discerning eye for detail and love of edibles certainly was a challenge given the location and size. The house design and interiors are very much mid century era and my role as garden designer was to work with some of the existing levels while exploring others that had never been seen or used before. The process of consultation and research led me to what you see today; a garden that connects with its owners, its architecture and its seaside site. The use of local hand-made materials and clever use of site-suitable plants looks great year-round from every room and every level. Please email me to see more!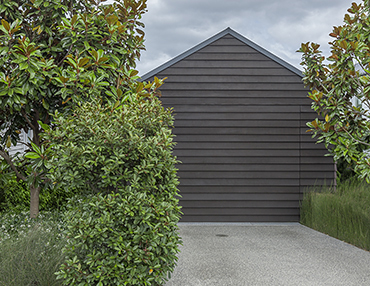 Architects Steven Lawson designed this stunning cascading home on an interesting city site that may have seen some garden designers throw their hands in the air. I saw this as an opportunity to pull one out of the bag, so to speak. I studied the light and how it was absorbed by the architecture and listened to how my clients really wanted to live with the available outdoor space. This garden had to impress on arrival and leave you wanting to explore more as you made your way down through the home. Each level had to offer something of the outside world and entice to you stop and make you want to go outside to experience the sheltered exterior 'rooms'.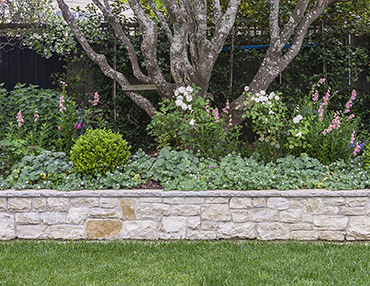 Sometimes we garden designers have to work with what we have on offer and if it's not broken then my motto is think smarter and use more plants! A large rear garden that had multiple uses, including being a playground, with lots of flowers for picking, it required clever use of materials and reconstruction of outdated features including limestone walls, covered timber retaining walls and an ordinary pool fence. The main living spaces of this home looked out onto the garden so it was vital all windows had an alluring garden view. The result? A garden with a new flavour. Garden beds overflowing with fragrant flowers in muted tones. Finally the garden had structural integrity.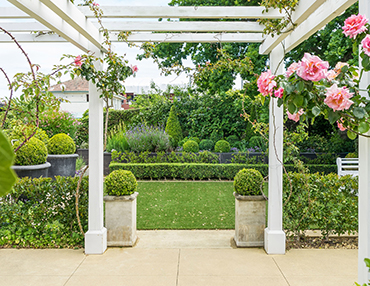 Here is an example of how much colour and texture are becoming popular again. This garden has good structural elements for year round interest and the choice of plants allows for each season to be defined dramatically. Simple layering and contrasting colours feature along with heady fragrance. Experience has taught me to trust my instincts and use perennials, annuals, bulbs and roses punctuated with topiary and shrubs for a truly spectacular display and effect.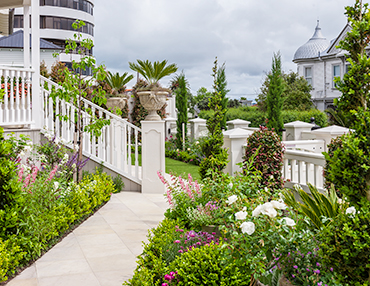 The brief for this north-facing garden was to design and create a fragrant, colourful and child-friendly environment. The focus of the garden was to have continous seasonal interest and lots of flowers to pick. The cottage-influenced colour scheme ties in with the traditional architecture of the property. The garden also features an organic orchard, espaliered table grapes, a berry patch and culinary herbs are included throughout the garden.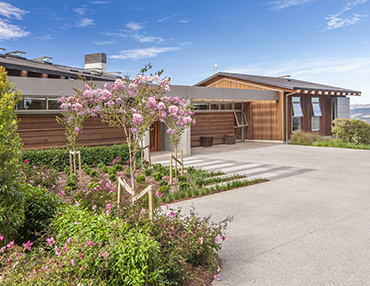 The development of a garden on an exposed hill-top, next to a pine plantation challenges the best of us. However, when the architecture and clever positioning of the home creates a haven for plants then the scene is set for wonderful planting ideas. This relatively new scheme features european influences in the plant palette with strong structural native species to tie it all together. The drive court serves as both vehicular access and parking, as well as sheltered courtyard with seasonal colour and fragrance. Canopy trees for summer shade soften the ranch style home.
special project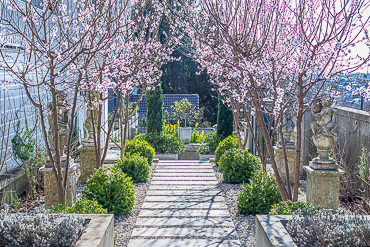 The owners of this garden wanted it to be inspired by their favorite travel destinations.
It's not often I get young couples who say, "Tony, make it grand and make it old fashioned!". The early 1900's villa certainly set the tone while new architectural elements made for an interesting contrast to the home. A love of France and England's classical gardens of old were to be referenced along with plants from both of the countries too. This was to be an exotic garden on a grand scale and all care and consideration was given to future-proof the garden for the next 100 years. Our friendship also grew while together we nutted out how the puzzle would all fit together. Like all my designs I oversaw the build and went on to train the family on how to care for the grand dame. Steel, stone and a plant palette reminiscent of much older gardens certainly enhanced this stunning traditional home. A spectacular avenue of almond trees further enhances the entrance garden.